Introducing our chicken guardian Maremma dogs to protect our free ranging chickens day & night from predation of foxes, wild cats & birds of prey has been an added asset to our farm life.  We'll look at their role and journey on the farm with a blog diary for their time as livestock protectors.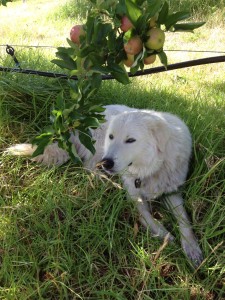 TYBER is a fully grown male Maremma dog who enjoys resting during the day in the cool of the apple trees in the company of the chicken's.
He's very meek in nature so is great around different people working in the orchard.  Tyber has been seen guarding his chickens with his loud barking and alert defensive behaviour towards any unknown threat in the orchard; especially at dawn and at night. He likes to have access to as much of the orchard as possible and is often seen in many different patches of the orchard checking the boundary fences.
He's a beautiful attentive dog we're grateful to own.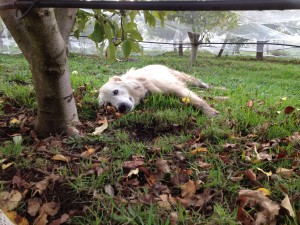 BAILEY is our boisterous young male maremma who also loves resting under the apple trees to cool off. He was purchased as a young pup from a local breeder, Kate Mason (Kojonup), with his sister he enjoyed our families company until being introduced to the chickens at a young age. He loves having the company of his new mate Tyber in the orchard who are often seen swimming in the dam together on hot days. Bailey's grown to become much larger than Tyber and is very independent. He's now showing territorial behaviour towards his male mentor Tyber so tends to like having his own patch to guard. We're grateful for his added presence in the orchard now he's over 12 months old. He's a very sociable dog that is happy to live with the chicken's in the orchard and have new people around for feeding & egg collection.
SALLY is our young female maremma, Baileys sister, so was also raised on the farm alongside our children as a pup. Her introduction to the chickens has been different as we are planning to breed from Sally when she is a little older. She is in charge of our oldest chickens on the farm having some introduction time in the orchard. Although not in the orchard she has been trained with older chickens since she was a pup and loves people visiting her at feeding time and when they collect the eggs. She's a gentle dog that is intensely spirited, very loving and almost as big as her brother!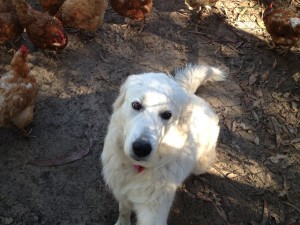 I'll be recording some of their habits and progress while we have chicken's free ranging in our orchard. They've been a very enjoyable breed to deal with the short time we've had them. They've surprised us with their abilities to keep the predators at bay that live in the valley surrounding our orchard.
Fiona Jarvis